Thought i would add this thread on here, without so much detail of the early years, and skip the boring (yet sexy) copious amounts of "I've cleaned it" pics.
This is a pic from before I owned her... stock, back pre-June 2009.
Here she is, simply cleaned on day of pick July 11th 2009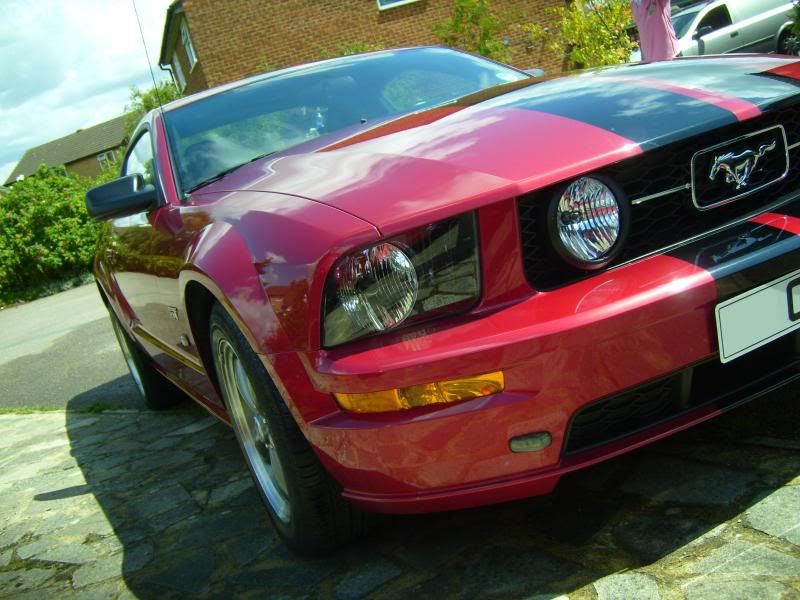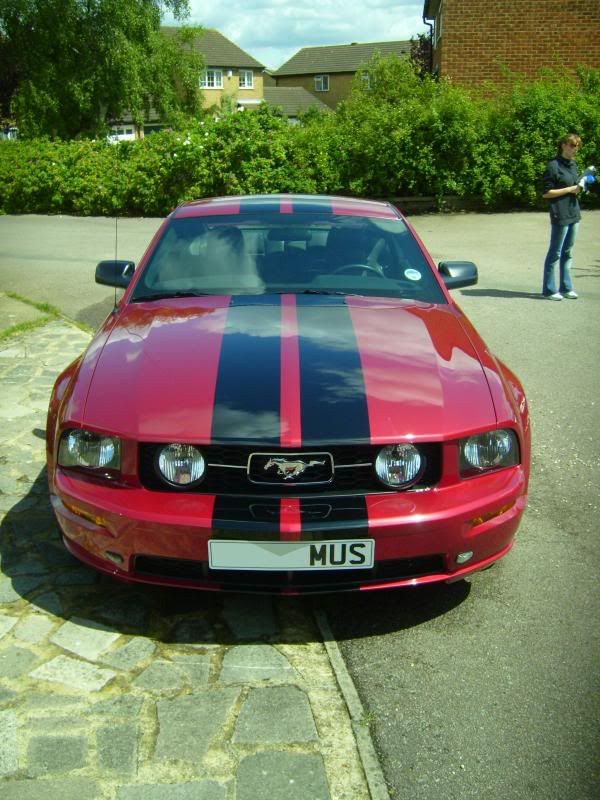 Next went in some Mustang branded stuff such as seat belt Pads, Tax Disc holder and Car Mats
After this I had some Clive Sutton SVA work re-done in September 2009. At the same time (due to damage to SVA'd rear lights) had Euro Lights fitted, cruise control fixed. I also wanted clear lenses in the front with sidelights moved into them. My plan was at this stage (to also look to get the horrible SVA side lights lenses removed from the bumper and fixed).
Got cruise control fixed and plus my doors lock once the car is moving... just show the company that originally imported this car really didn't do a great job on the SVA work.
Before & After images of SVA work...
Original MESS!
Nice & Tidy!
Next up were Agent 47 Mirrors and fitting of my clear corner lenses at the front. The Agent 47s reduce the overall width of the car by 4" ! 2" either side makes getting in and out of the garage easier.
Mirrors and lenses
I think a K&N Panel filter got slotted in around this time, not big news but it happened
Then came the first exhaust swap, March of 2010...
Straight through steel pipes (supplied by Good Fabs Performance Exhausts, made by Modurstang).
Before Pics

Left Under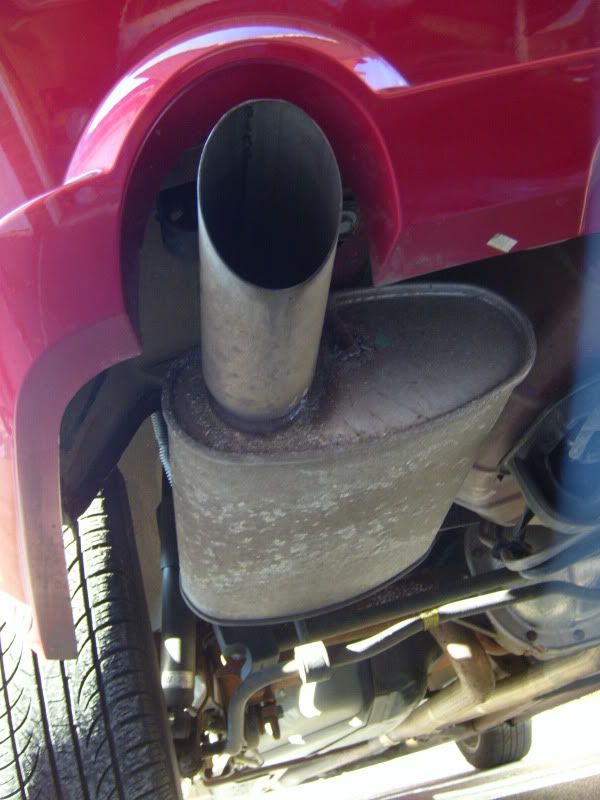 Right Under
Before Vid
http://vid116.photobucket.com/albums/o1 ... at4K02.mp4
After Pics

Left Under
Right Under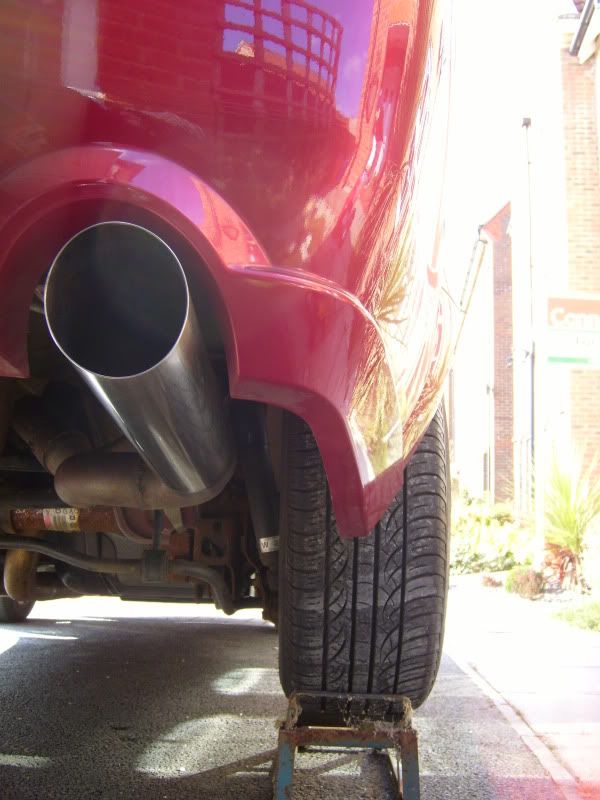 After Vid
http://vid116.photobucket.com/albums/o1 ... 8POP02.mp4
Figures (Rough):
Standard Tick Over
: 76Dbl
Standard 4K
: 95Dbl
New Tick Over
: 82Dbl
New 4K
: 107Dbl
First suspension swap in July of 2010. Apex springs, dropped around 40-50mm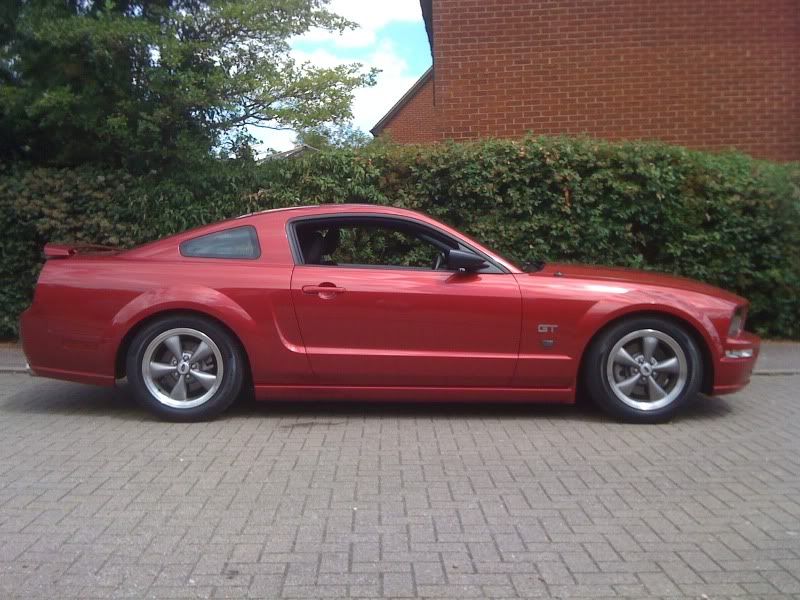 Following this came my first audio install. There is at least two threads on here where I detail how to do the audio upgrades, so I won't bore you with that. I initally fitted a flipout headunit that was actually replaced with a 7" Android stereo a few years later. Silvertec bulbs were fitted to the Euro lenses on the rear to remove the 'fried egg' look.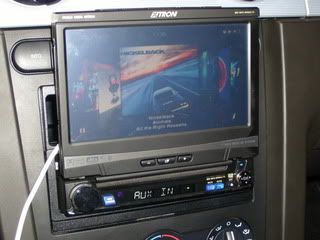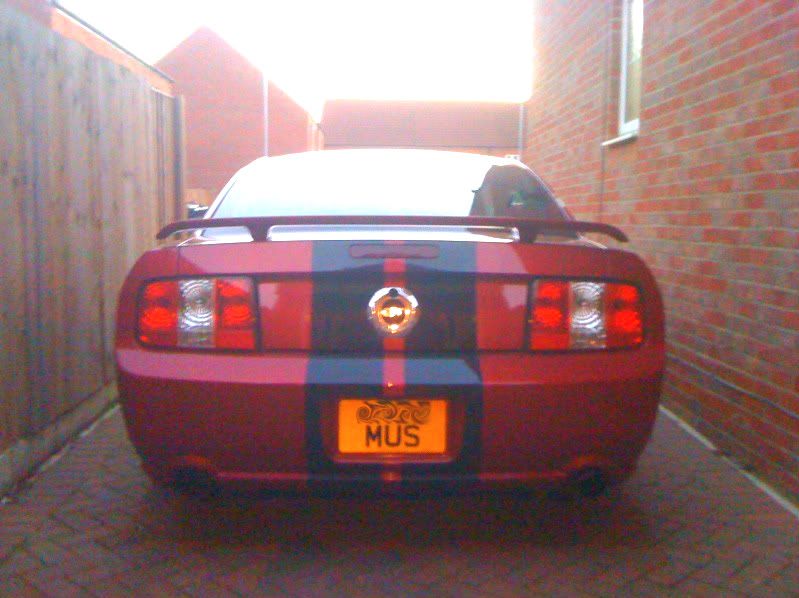 Then, rather than new wheels I decided I would DIY them to black at the end of 2010
So standard wheels were preped and resprayed with Black Gloss and a hint of red flake in the lacquer (over the black) then another coat of clear lacquer layed over the whole wheel. Also lost the Ford badges from centre caps and replaced with my own design (loosest term!), the Mustang pony where they ALL roll forwards...I won't bore you indepth details so here is the end result and how she looked at the end of 2010.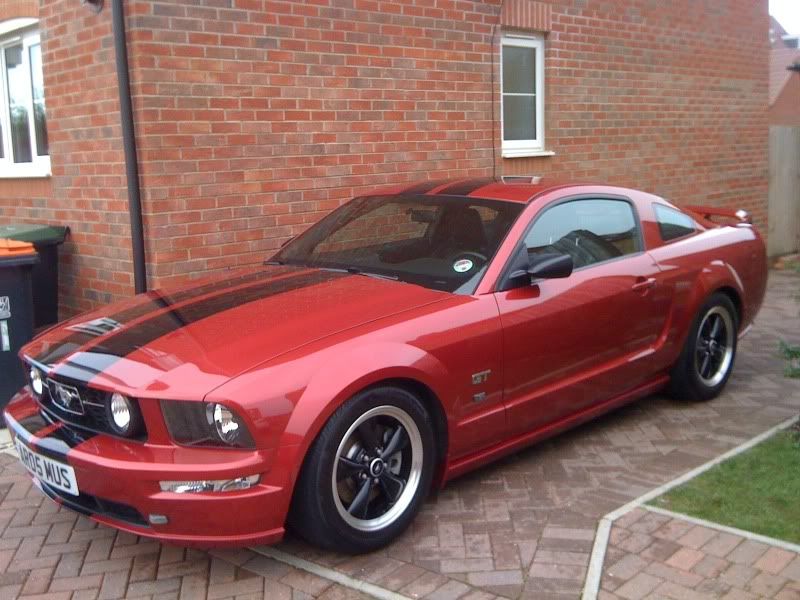 March 2011 I ordered some HIDs and fitted them (what a difference) and some 5mm universal spacers to give the rear a slightly fatter stance: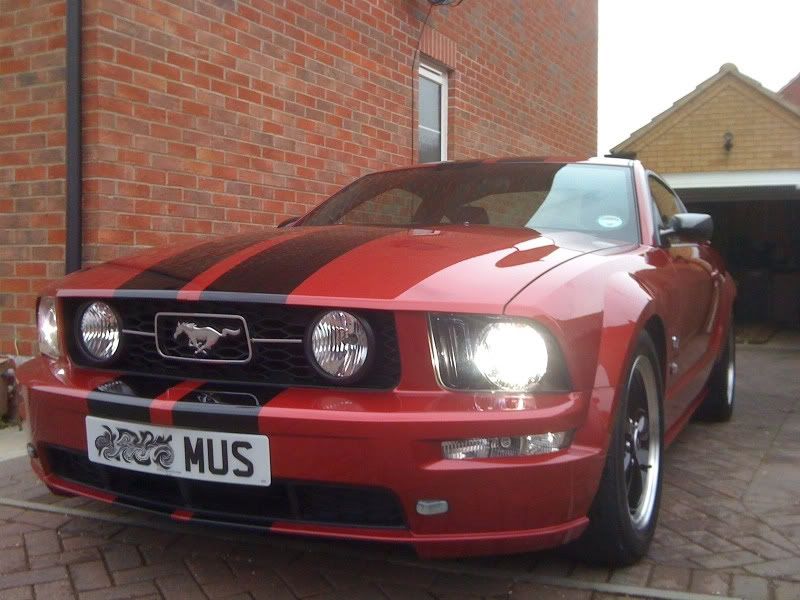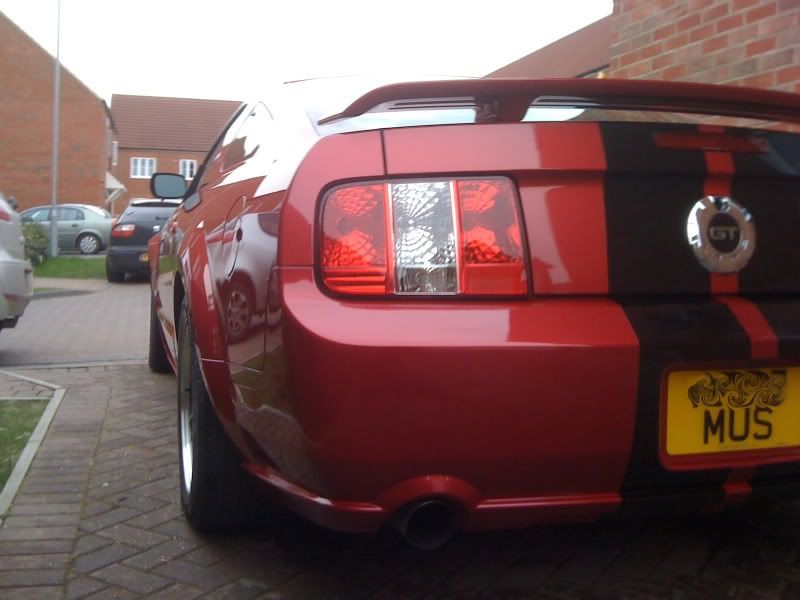 A pic from Waddesdon in 2011: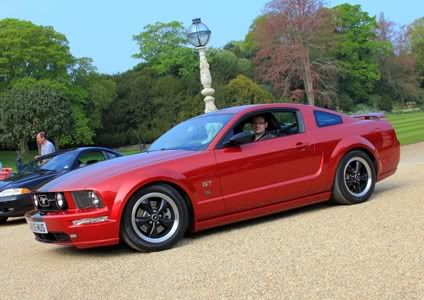 Next up came suspension swap 2. After a year so low on the APEX I wanted to raise her up a bit... CBA with the hassle. Roll on Steeda Ultralites (and EBC brakes)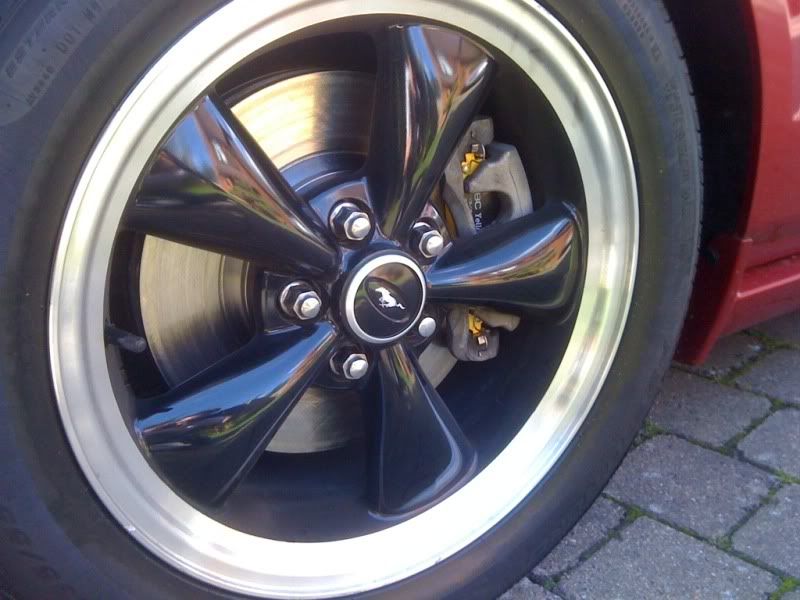 So, November 2013 brought with it a C&L CAI and tune from VMP
Here it is... took around 10 minutes plus TUNE upload time. Fricking AWESOME piece of kit...
My only comment on the kit is that nobody mentioned the dashboard went MENTAL when uploading/downloading the tunes... error here, TCS there,...was crappin' myself... but all is perfect (and this action is normal!)
Here she is (just to horrify TT) after the Wishkids charity run Feb'12 :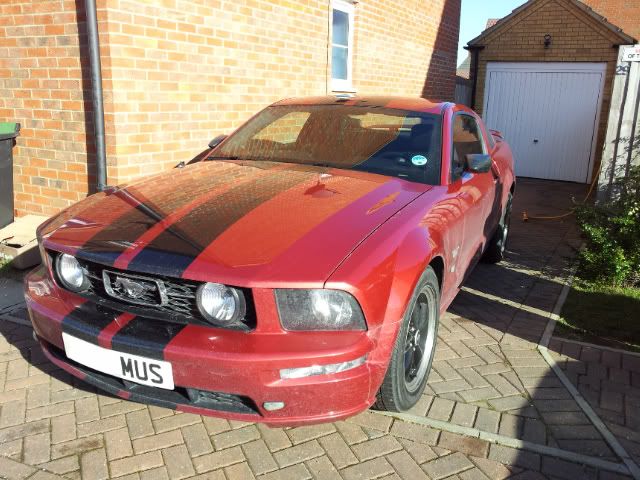 Exhaust swap 2 then came, with a set of Borla's being fitted in May of 2012 (the drone and vibration of the straight throughs was too much):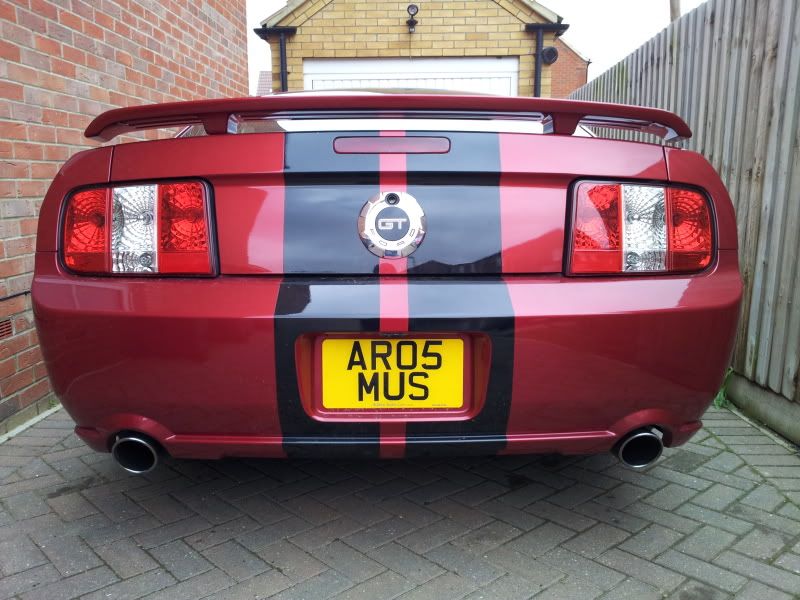 ...and also the purchase of some 20" Bullit rims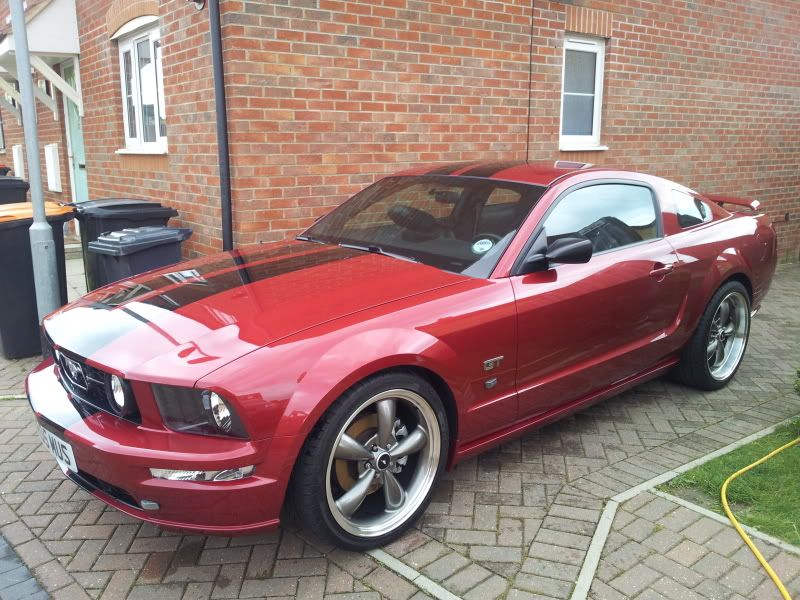 September 2012 brought me a Ford hoodscoop
Lining off...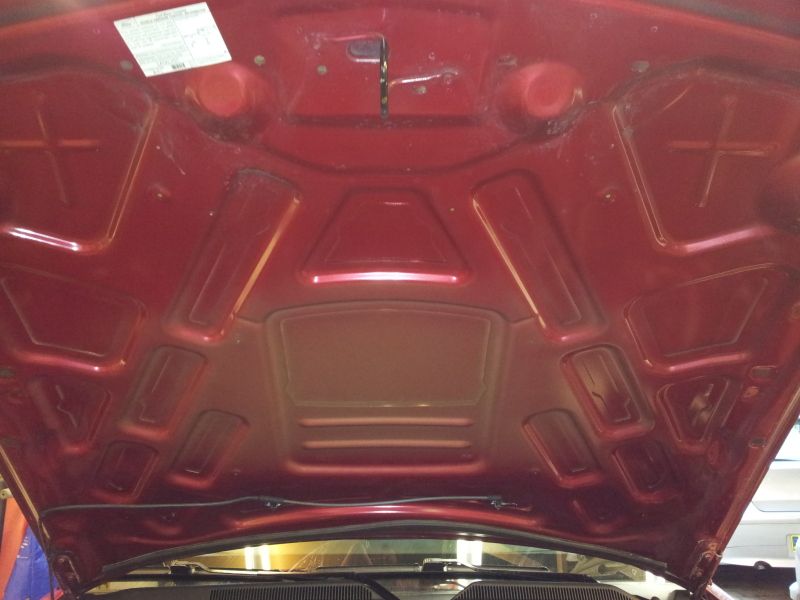 Measurements taken, tape applied... (big thanks to Nick [NMH] for measurements)
Crazy drill guy let loose...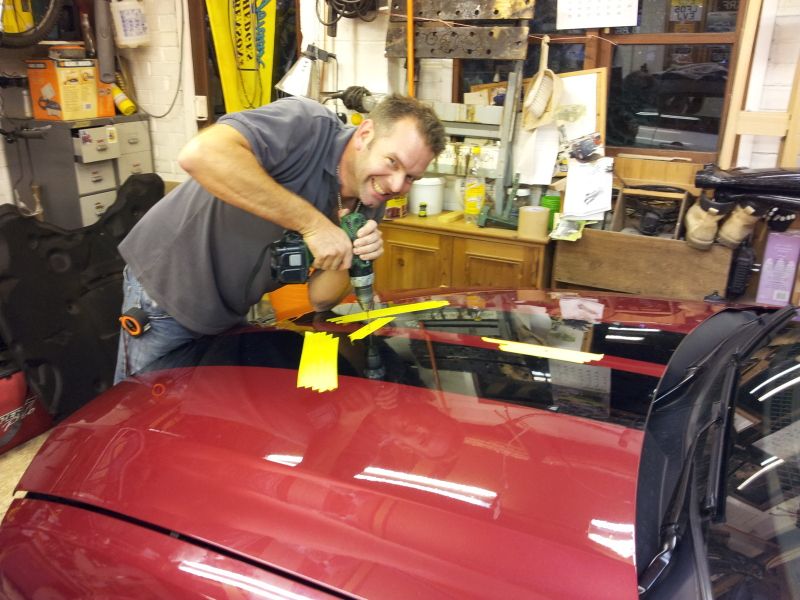 Scoop in situ...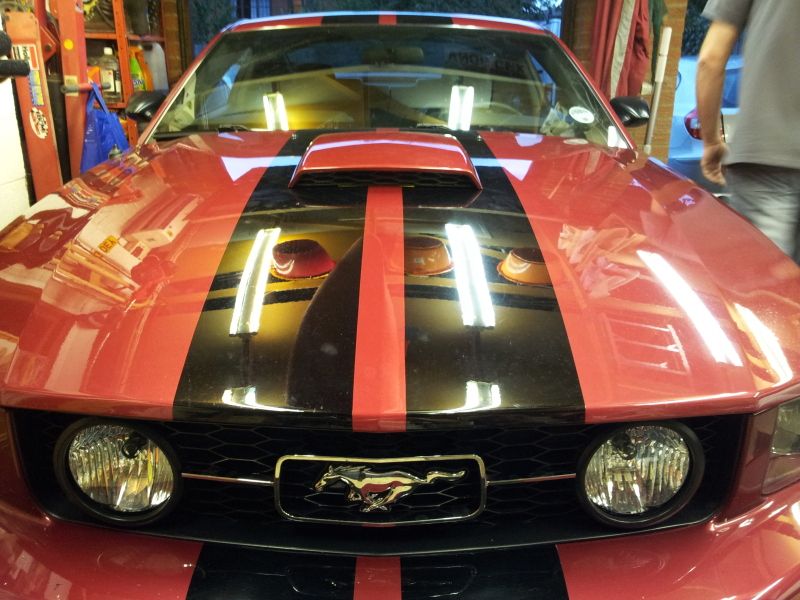 Template created...
..and applied...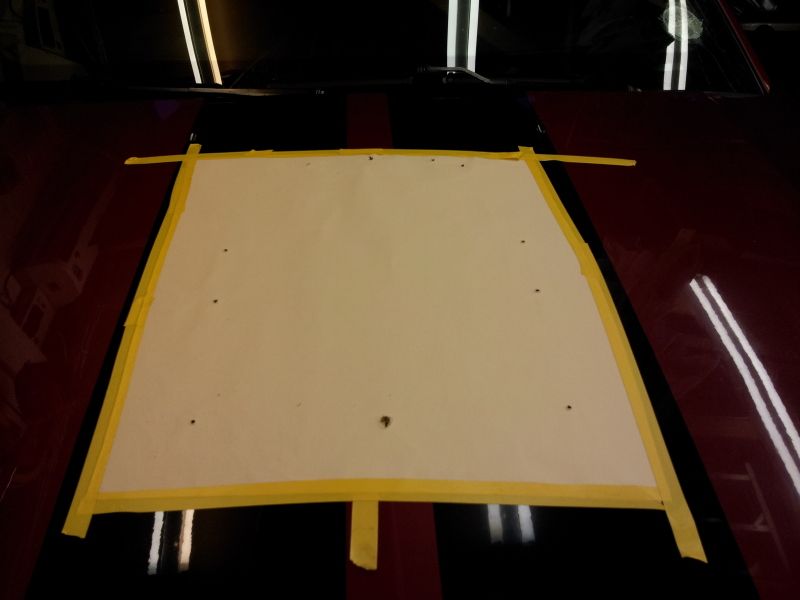 Further holes were drilled... shot from underneath...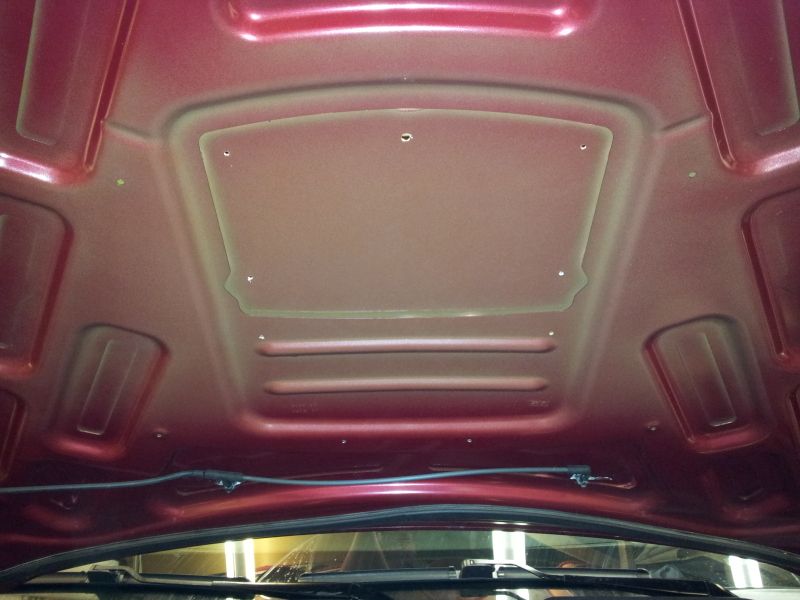 Fitted...(no day time shots yet!)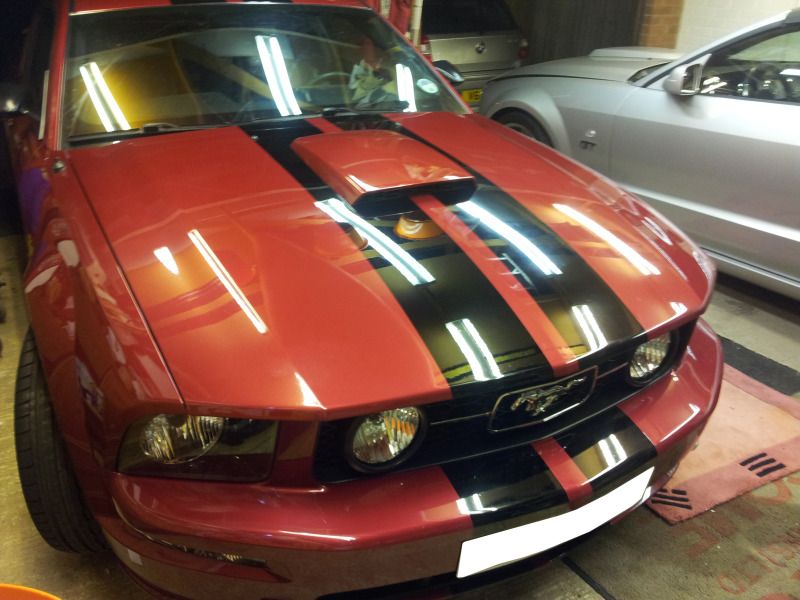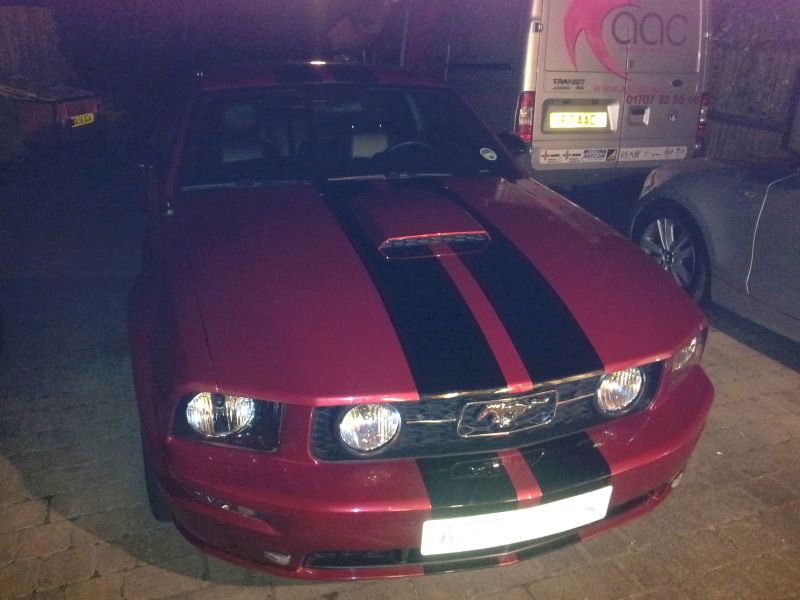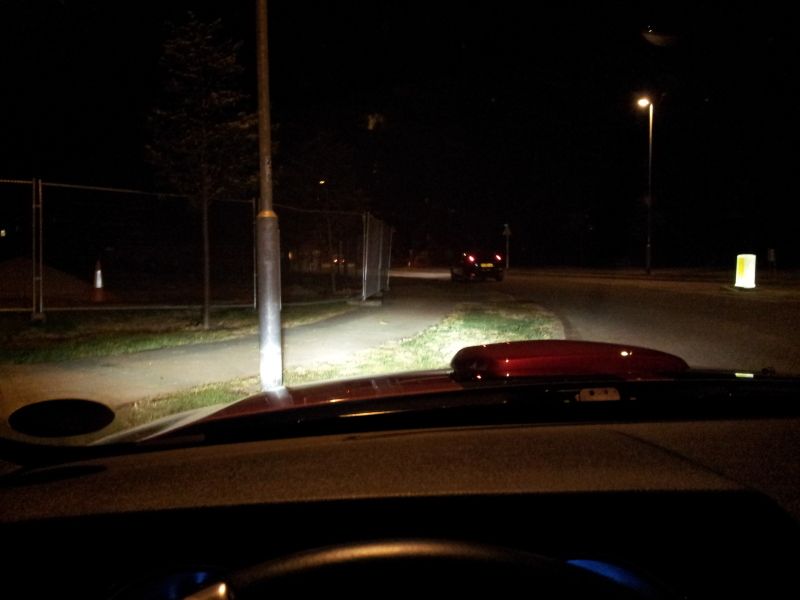 The beginning of 2013 brought with it exhaust swap 3. The Borla's had an annoying drove around 3000rpm, which is almost exactly 30mph and 70 mph! So I bti the bullet and went for a set of the GT500KRs. I also got the scoop striped and the whole car mopped.
Firstly I took advice from others and painted the GT500KRs to protect them with Hi-Temp Enamel:
https://dl.dropbox.com/u/5755846/20130228_150017.mp4
I also had the hood scoop striped:
In May 2013 I had some proper photos done (I won't post them all here):
In May 2013 I did a DIY job on my rocker covers:
Here is a guide to removing rockers..do as it says... don't skip parts (such as removing battery lol) -

http://mustangforums.com/forum/2005-201 ... -pics.html

Don't be fooled by my DIY'ness. The best results would be sand blasted and powder coated, but I am pretty impressed with my results and the savings. The hardest work was getting the rockers out and off, and then due to timescales, getting them back on without damaging the new paint.

In place before:

Preparations (Simple hose down, wipe clean with some anti-crap stuff, then started wet/dry with 80, then 160, then 600):

Etch primer:

Hammerite Smooth Silver (after some 1200 over primer, then 1400 between coats if needed).

Both sides fitted

As said die hard MUST BE PERFECT fans will find fault, but for £20 and a great day outside I am well chuffed.
June 2013 is when the new headunit went in, and I installed a reversing camera:
This takes us to the end of 2013. January 2014 was due to be my 30th birthday and I knew I wanted to make it something to remember. By chance an opportunity arose to buy a performance upgrade NEW but on a blinding deal...so I went for it. Yes the end of 2013 was when the Roush M90 Supercharger was bought and fitted, along with a big brake kit. The brakes would need a refurb, but for now would stop me just fine.
As I had a C&L and handheld tuner I opted to go with a custom VMP Tune and the smalley pulley upgrade to match the C&L CAI...that should give an extra 50+ horses (on top of the 125 extrea the stock M90 would give)
Before the SC was fitted I sprayed the throttle body and fitted some ROUSH strut caps, just to set of the chrome of the SC...
I also set about refurbing the calipers:
Little bit of work over the weekend on the refurb of my calipers,....

They pretty much both started out like this...

Degreaser, cleaner and a mixture of 40-600 wet n dry to smooth and they were ready for primer.....

Rubbing down between coats of primer and they were ready for paint. 1200 wet n dry between coats.

Started to pick out the detail on one caliper with some RedFire paint I had in the garage... will be adding "ROUSH" in its usual spot, also in RedFire...opinions?

Also, I am aware I have sprayed bolts etc, but once brakes fitted I am happy to touch up with a black brush...yes I could have paid lots of money for a professional to do this, but I quite enjoyed it, spent time in the garden, and it only cost me £20.

Let's not forget these will be hidden by wheels too!
Collected after SC fitment from ModUrStang on end of July 2013, and also fitted some bonnet lifters...
Video:
http://www.youtube.com/watch?v=rOQ2jZ2Fc6A
September 2013 saw a SantaPod run...
http://youtu.be/LEVxpHF3YEg
November 2011, slightly later than planned the big brakes finally went on:
Finally, after first collecting the Calipers at Speedfest earlier this year... I have now fitted (well I helped to fit):

Refurbed calipers

Hawk race pads

14" Stoptech grooved discs

Braided lines

Well happy... just need to allow them to bed in

Fitted

Of course, big thanks to Dave, the Head Mechanic

Calipers need some fine detail to finish them off. Since the refurb they haven't been kept "well", plus I now need to work out hwo to get some lettering on them, and what I want. The main thing is, they are on, and they are awesome lol

Would also like to thank Roy at CA Technologies who was VERY helpful on the phone and email to arrange the Stoptech discs. Couldn't have done it without him.

Roy

http://www.ca-int.co.uk

0871 231 1010

enquiries@ca-int.co.uk
Nothign major but the end of November saw an LED upgrade all round. Indicators and sidelights mainly. Interior lights (MAP reading) also got a red cree LED upgrade.
A little video from January 2014, as seen from another car:
https://youtu.be/rHfpm41Etow
Feb 2014 I replaced the C&L filter with a K&N one...
NEW air filter arrived courtesy of
http://www.ebay.co.uk/itm/K-N-Universal ... 1091846567
DemonTweeks ebay store (102mm x 228mm). After lots of measuring
http://www.knfilters.co.uk/search/produ ... od=RE-0870
K&N Filter RE-0870 was decided upon as a suitable replacement for my old (
fitted November 2011 but was second hand to me then
) tired C&L filter.
March 2014 I removed the pony surround from the grille... not a major mod I know!
Aprl 2014 I fitted some lower grille inserts and radioator extension covers...
May 2014 saw a service at ModUrSTANG and the BMR LCAs upgrade, plus I sourced some pipework to tidy the air intake
That weekend I cleaned and tidied (moved wires etc) the engine bay
December 2014 I ordered some WMS Stealth Hood pins... but I am yet to fit them
2015 has brought a coupler updgrade to the M90 after it rattled and sadly the gearbox needed repair work too. Took advatage and ordered a TCi Hardened shaft to be replaced whilst it was apart. Turned out The gearbox had always had a fault. Once I got her back the difference was instantly recogniseable. She'd never been so fast.
Apart from treating myself to a Snowfoam lance that's about it for 2015. This last weekend I repalced the idler pulley as I had a temporary onc fitted since the bearings in the 90mm from VMP went to shot.
You can't see it sadly, but never mind!